Manuscripts Etc.

The following items are drawn from the William Faulkner Foundation Collection at the University of Virginia's Albert and Shirley Small Special Collections Library (http://small.library.virginia.edu/).
Click on any image to see an enlargement.
---
The Reivers
Below: We can't be sure when or why Faulkner created these two genealogical tables, both tracing the descendants of Lucius Quintus Carothers McCaslin, the plantation patriarch who makes his first appearance in the Yoknapatawpha fictions in Go Down, Moses (1942). The Faulkner Foundation Collection catalog associates this item with that novel. But given the attention Faulkner is paying to the Priest family - who become a "cadet" branch of the McCaslins as the descendants of Old Carothers' daughter's daughter - it seems more likely that this attempt to align the various generations is part of his preparation for writing The Reivers, where the Priests suddenly emerge as another of the county's leading families, like their cousins the Edmondses, or the Compsons, and so on.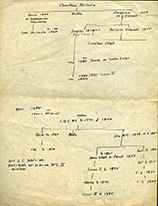 Citing this source:
Stephen Railton, "Manuscripts &c: The Reivers," Digital Yoknapatawpha, University of Virginia, http://faulkner.drupal.shanti.virginia.edu/node/12452?canvas (Date added to project: 2016)