Manuscripts Etc.

The following items are drawn from the William Faulkner Foundation Collection at the University of Virginia's Albert and Shirley Small Special Collections Library (http://small.library.virginia.edu/).
Click on any image to see an enlargement.
---
"Elly"
According to Joseph Blotner's account, the earliest version of this story was written sometime late in 1928 by Estelle Oldham, who became Mrs. William Faulkner in June, 1929. Dissatisfied with it, she gave the manuscript to Faulkner to read. He expressed a desire for them to revise it together, but instead she left it in his hands. We don't know how much he might have revised the story before submitting it to Scribner's magazine in December, 1928, under the title "Selvage."  The rejection letter he got back in February, 1929, refers to it as having been "done by you and E. Oldham," so at that point the two names must have been on the title page together.
The earliest manuscript version that survives, also entitled "Selvage," is in Faulkner's distinctive handwriting. Faulkner had had to send Scribner's both the original and carbon typescripts of the version that they rejected, so the existence of a typescript derived from this manuscript indicates that it is at least the third version of the story. As you can see from the first three pages of this manuscript below, this version begins with Paul de Montigny and Corinthia Bowman (as Elly is named at this point) nearing Birmingham (which was originally identified as Memphis, and called Mills City in the published story) on the eve of her marriage to Jared (as Philip is named). The narrative does not pause to describe Cynthia's life in Jefferson or her first meeting with Paul; the grandmother's reference to Paul having been "ordered out of the house once" suggests a different back story, but no additional details are given (below right).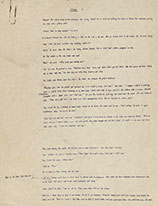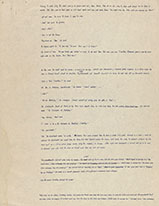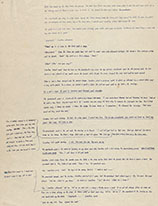 Below: The first five pages of the typescript made from this manuscript. Its first page bears only one author's name – William Faulkner (below left). As in the manuscript above, the question of Paul's race is not definitively answered.  The term the grandmother uses in both these texts – "crillo," a variant of "creole" – can refer to someone of Spanish or mixed race origins (page 2 above; page 4 below).  The grandmother herself, however, refers to Paul as a "negro" (page 3 above; page 5 below), and his reference to "contaminating" the home of Corinthia's aunt and uncle (page 1 above; page 2 below) implies he thinks of himself the same way, although he is passing as "white."  Faulkner submitted the story, as "Selvage," to two additional magazines in the Spring of 1930. This typescript may have been prepared for that, but since there are a number of handwritten revisions and additions in it (see especially pages 2 and 3 below), it's clear that this is still a work in progress.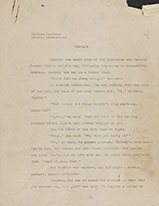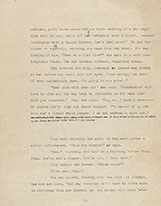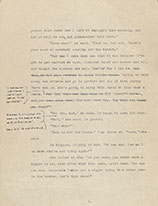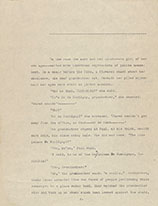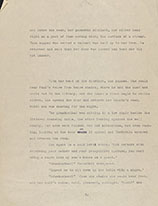 Below: the first two pages of the only extant manuscript of the story as "Elly." It is very close to the published version, which appeared in Story magazine in February, 1934, three years after Scribner's rejected it. By this time the story is more recognizably "Faulknerian," at least in the way it begins in the middle but then backs up to rehearse the earlier story of Elly's life in a small town in a "biggish" house dominated by the grim figure of her grandmother.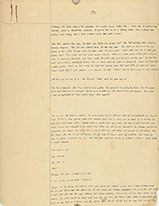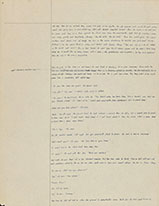 ---
SOURCE: Joseph Blotner, Faulkner: A Biography (New York: Random House, 1974).
      Citing this source:
Stephen Railton, "Manuscripts &c: 'Elly,'" Digital Yoknapatawpha, University of Virginia, http://faulkner.drupal.shanti.virginia.edu/node/13524?canvas (Date added to project: 2017)