Manuscripts Etc.

The following items are drawn from the William Faulkner Foundation Collection at the University of Virginia's Albert and Shirley Small Special Collections Library (http://small.library.virginia.edu/).
Click on any image to see an enlargement.
---
"Shall Not Perish"
In early April, 1942, about the same time that "Two Soldiers," Faulkner's first story about the Grier family, appeared in the Saturday Evening Post, he decided to write this second one. He badly wanted to sell another story to the well-paying Post, but he was also moved to say something timely and meaningful about the world war that was already proving costly to American lives. This second motive helps explain why, although he uses the same unnamed boy who had narrated "Two Soldiers" to tell this story, his voice and perspective have become adult and philosophical. Faulkner's need for money, or at least his frugality, is indicated by the fact that the pages below, all that survives of the story's first telling, are found on the backs of pages 9 and 8 of the carbon typescript of "A Courtship," the next short story Faulkner wrote; he is recycling part of his carbon copy of "Shall Not Perish." (It is not known what Faulkner's penciled calculations in the margin of these two pages refers to, though money is probably involved in both.)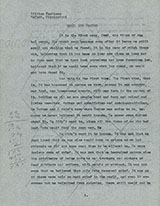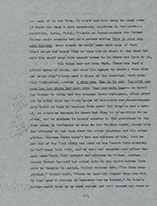 When the Post rejected the story, in particular because it struck the editors as "over-written and artificial," Faulkner quickly re-wrote and re-submitted it. As you can see by comparing the first two pages above with his next version (below), the revised version gives the narrator back his vernacular voice – "me and Pap," for example, or "I reckon" – and locates the narrative in his visceral experience – "When the message come" – rather than the larger perspective Faulkner deployed before. The transformation is not consistent: the boy naively says "the Unity States," for instance, but knows about and correctly spells "Australia" and "Siberia." But Faulkner is working hard to satisfy the magazine's editorial staff.  (Harold Ober, the other name that appears at the top of page 1 below left, was Faulkner's agent.)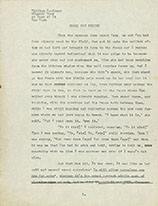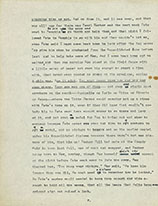 By mid-May, however, the Post rejected the revised version, though through Ober Faulkner learned that the magazine was willing to consider another revision, and within a week Faulkner sent his agent a third version (below). Presumably the hand-written changes made on the second page above right show him in the process of making this re-revision; all are incorporated into the page below right. These changes soften the narrator's vernacular – "git nowhere to git no medal," for example, becomes "get nowhere to get a medal." The other main change is to tighten the story a bit. Although this revision is not nearly as extensive as the wholesale changes Faulkner made in April, Faulkner told his agent that he thought "it was all right now."  "It never had tasted quite right to me," he added; "that's what having to write not because you want to write but because you are harassed to hell for money does."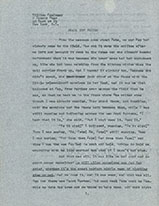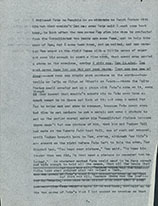 In less than a week, however, the Post rejected it once more. Hoping that Ober could sell it to another magazine, by early June Faulkner had revised it a third time (below). In this version the narrator's voice is much less vernacular; it begins, for instance, "When the message came about Pete, Father and I . . ." Just as Pap becomes Father, Maw becomes Mother, and so on. It's hard to know, however, what Faulkner's decision to give his narrator back the more educated English he had spoken at first was based on. Did he want to make the poor white Griers more dignified in their sacrifice, their grief and their courage? or did he think the more formal style was better calculated to sell? The other major change, the further tightening of the story, was almost certainly based on commercial considerations. This fourth version is five pages shorter than the third one: the reference to Pete's girlfriend Docia or Doshey Tull is gone, as are most of the story's references to what happens in "Two Soldiers." Ober had to submit this re-re-revision to many other magazines before it was accepted over a year later by Story, which paid Faulkner $25 for it. This fourth version is the one Faulkner reprinted in Collected Stories.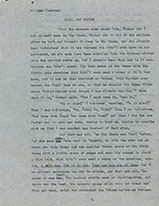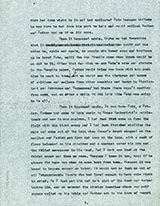 Citing this source:
Stephen Railton, "Manuscripts &c: 'Shall Not Perish,'" Digital Yoknapatawpha, University of Virginia, http://faulkner.drupal.shanti.virginia.edu/node/10703?canvas (Date added to project: 2016)