Manuscripts Etc.

The following items are drawn from the William Faulkner Foundation Collection at the University of Virginia's Albert and Shirley Small Special Collections Library (http://small.library.virginia.edu/).
Click on any image to see an enlargement.
---
"That Evening Sun"
Faulkner first sent this story to Scribner's, which rejected it in the fall, 1930. The cancelled word at the top of the page below – Faulkner's carbon copy of the story's first page – is "Forum." This suggests he may have thought about sending it to The Forum magazine, a highly respected New York publication that regularly featured articles addressing social issues like segregation in the South. Forum published "A Rose for Emily" in its April 1930 issue. By the end of 1930, however, The Forum had merged with The Century and become the Forum and Century, which may explain why Faulkner next submitted it instead to H.L. Mencken's American Mercury Magazine. As you can also see, Faulkner retitled the story at about this time by cancelling the last two words of the phrase "[I hate to see] that evening sun go down," from W.C. Handy's "Saint Louis Blues."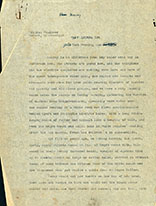 Mencken accepted the story quickly, but in his 11 November 1930 letter he also asked Faulkner to make two different sorts of revisions. Calling Nancy's husband "Jesus," he suggested, would strike most readers as an obvious attempt to be "naughty." Faulkner was willing to substitute "Jubah" instead (and admitted in an answer to a question about the name at the University of Virginia in 1957 that part of his intention had been to shock his audience; see the "Audio Clips"). And Mencken was troubled by the two passages dealing with Nancy's pregnancy on pages 4 and 5 of the typescript (below left and right), calling them "somewhat loud for a general magazine." Here too Faulkner agreed to make changes, though his revisions were not as extensive as Mencken wanted – Mencken made a few further changes before publishing the story in March 1931.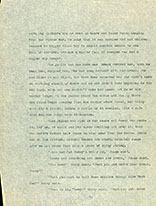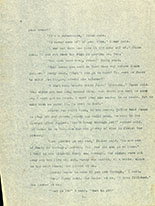 When Faulkner himself published the story in These Thirteen (1931), he gave Jesus his name back, and rewrote the passages about Nancy's condition. But traces of Mencken's revisions remain in that version, and in the Collected Stories version he published in 1950; the two pages above are the only way to see what Faulkner originally wrote.
      Citing this source:
Stephen Railton, "Manuscripts &c: 'That Evening Sun,'" Digital Yoknapatawpha, University of Virginia, http://faulkner.drupal.shanti.virginia.edu/node/10671?canvas (Date added to project: 2016)