The following items are drawn from the University of Virginia's Albert and Shirley Small Special Collections Library (http://small.library.virginia.edu/).
Click on any image to see an enlargement.
---
Photo Gallery: from Archeology of Mississippi
Professionally, Calvin Smith Brown was a Professor of Modern Languages at the University of Mississippi, but the pre-history of the state was a lifelong passion. The two photographs below from his pioneering 1926 study depict "Indian mounds" from the south-eastern area of Lafayette County, the original on which Faulkner's Yoknapatawpha is based. The first (below left) he describes as "at Cornish"; the second he locates "near Oliver Bridge." The bridge spans the Yocona River just below the hamlet of Yocona; Cornish is another hamlet just east of Yocona.  Both photos were taken by Brown in 1913. They have been digitized from Faulkner's own copy of the book.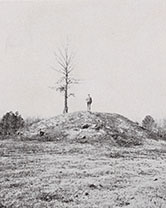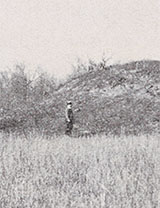 SOURCE: Calvin Smith Brown, Archeology of Mississippi (Mississippi Geological Survey: 1926).
---
      Citing this source:
"Photographic Re-presentations of Faulkner's World," Digital Yoknapatawpha, University of Virginia, http://faulkner.drupal.shanti.virginia.edu/content/archeologyofmissphotos (Date added to project: 2019)